As the Jamaican-born dub poet reflects on decades of race relations in the UK, from the Brixton riotings to Windrush, he says young pitch-black somebodies carry spears out of panic, and subjects how much progress we have constructed since his time as a youthful Black Panther
When Linton Kwesi Johnson was a boy, he wanted to grow up to be an accountant." If I was an accountant ," he chuckles gently, sitting surrounded by stacks of books and Cds in his modest south-London terrace live:" I would probably be a multimillionaire by now ." The world-wide, on the other hand, would be considerably poorer.
It is 40 years since the Jamaican-born poet attained his debut as a recording creator. The release of Dread Beat an' Blood- an album of revolutionary government style spoken in Jamaican patois, set to a reggae beat- caused a new literary genre known as dub poem, and innovated Johnson , now 65, as the expression of the Windrush generation. Neither he nor his make was universally appreciated. The Spectator memorably accused him of helping " to create a generation of rioters and illiterates "( the magazine was appalled by his phonetic mean- as in "massakaha" for pogrom, announce) and he recollects how the police arrested and beat him up. Yet he became exclusively the second living poet to have his toil is issued by Penguin Modern Classics, and was the 2012 champion of the Golden PEN award for his" discriminated assistance to literature ". Next month, his contribution to the country's artistic life will be honoured at the Southbank Centre in London– an motive whose implication has been intensified by phenomena of recent weeks.
Johnson is described as a loath interviewee. "I've got interview fatigue," he smiles before we have even sat down, and it is true that he can be quite diffident and reserved. But rereading all the interviews he has given over the years, I was struck by how comprehensively they map each turn in the advancing record of British scoot relations. From the Black Panther movement to the New Cross fire and Brixton rampages of 1981, through the Metropolitan police's notorious Special Patrol Group, the Stephen Lawrence slaying and the Macpherson report, right up to the Grenfell Tower tragedy, Johnson has provided the social commentary absent-minded from so much better of the public narrative. Sometimes, he has clanged full of rage- and at other days, more hopeful. I'm curious, hence, to hear how he would characterise the present moment.
" In calls of home countries, "it wouldve been" foolish to say that we haven't made some advance. Because "were having" ." He quotes the compare between the" almost complete and utter lethargy to the New Cross fire from mainstream media" with the" huge outpouring of sympathy for people affected by the Grenfell tragedy" and indicates:" I think it's a measure of how significant progress we've prepared; how integrated "were both" ." Then he pauses.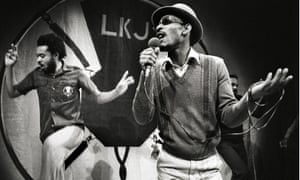 Source: http :// www.theguardian.com/ us