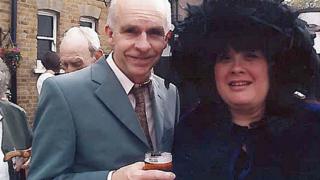 A cancer patient who lost most of his penis to a flesh-eating superbug has won a six-figure payout.
Andrew Lane, 63, contracted the potentially fatal necrotising fasciitis infection following surgery to remove his prostate gland in March 2013.
His bowel was punctured during the routine operation at Southend hospital but staff only discovered six days later.
Southend University Hospital NHS Foundation Trust declared there used "failures" in diagnosing the problem.
Mr Lane, from Thurrock, said: "They've declared their misconception, but I've not had an defense and knowing that merely a scan a few epoches earlier would have prevented all of this is very difficult to accept."